---
Graphic elegance, tribal vocation, a subtle eroticism in a morbid anatomy style. The classical statues are quoted by amputations in Francesco D'Isa's art. The limbs, severed by time, integrate in a living body, becoming decorations, baroque whirls, smoothed roundels like doll parts.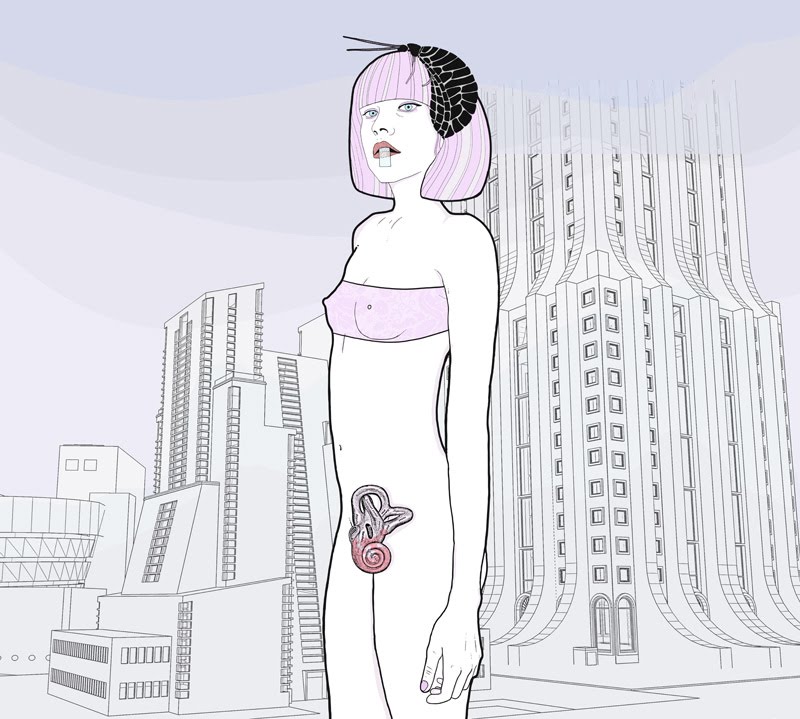 Lately the protagonists of D'Isa's works have abandoned their universe of damask and last generation pastel colours, to insert themselves in modernist landscapes. Skyscrapers like the Tyrell Corporation of Blade Runner, a lotophagous Lolita with a calcified, spiral-shaped cache-sex, and a huge beetle integrated in her coiffure, like some Cronemberg's creatures.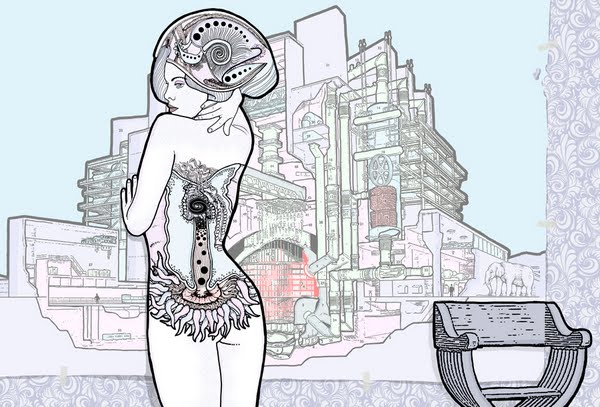 How It Works shows the functioning in section of an atomic power station, and, at the same time, how it works the anatomy of the Queen of the Radiations, with her royal helmet and throne, and her worm-like outgrows, at the basis of her spine. The body components are shown also in Queen of Heart, who is going to play a black ace of heart with her one arm left. Her cardiac muscle has moved to the level of the matrix, together with its pulses.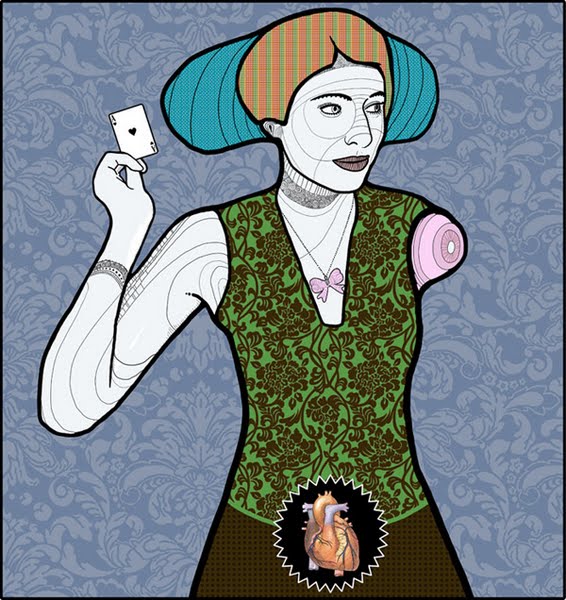 Pornsaint Toya has the section of a brain instead, strangely similar to a pair of ovaries, at the level of her uterus.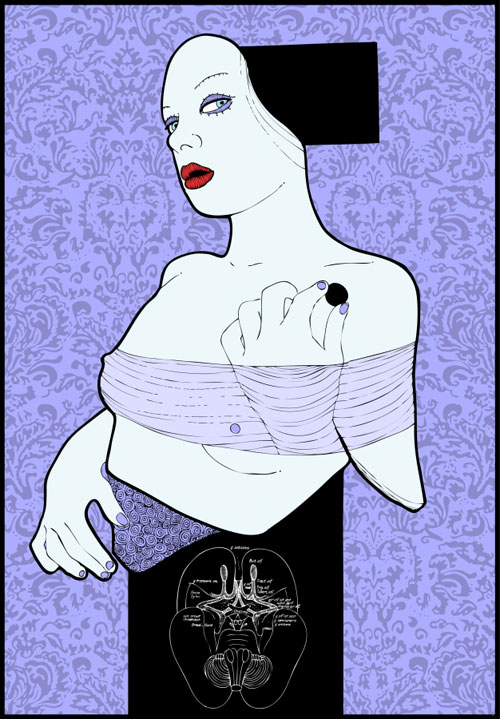 The protagonist of Green Kiss exhibits two further mouths on her breast, opening the slit with her fingers and showing her hollow chest impaled on a black pole.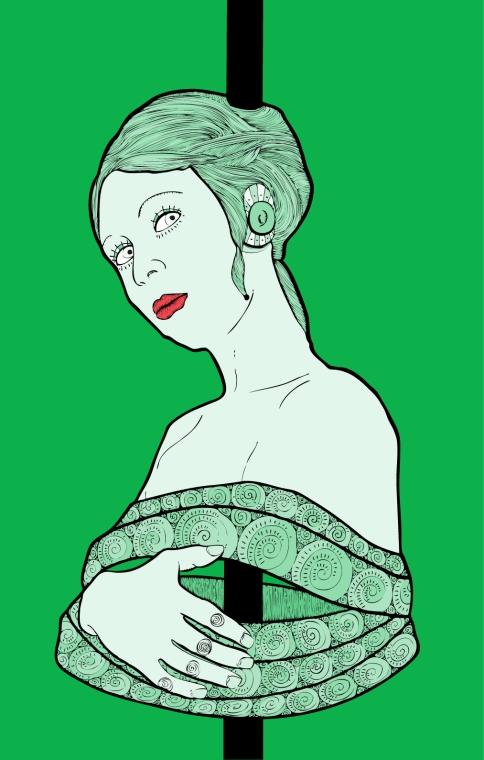 The rules of the body-machine fall down in the Brave New World of Francesco D'Isa, in favour of everything that's cruel, refined, bizarre.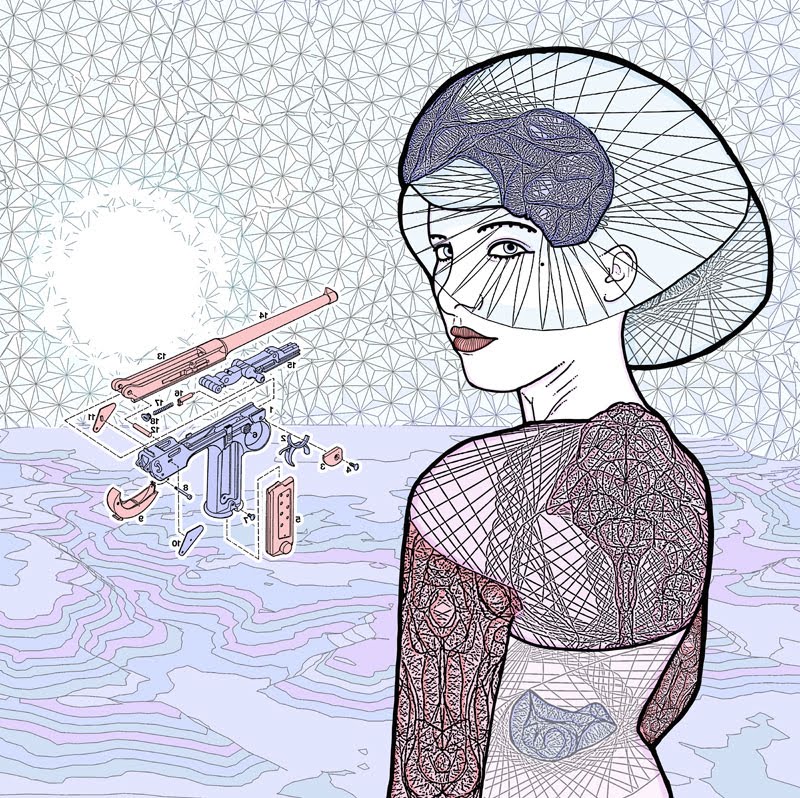 To end the circle, a sidereal landscape, with precious and labyrinthine facets like the crystal lattice of diamonds' tetrahedrons: this is the ideal setting to put on stage the mystique of suicide. A theatre of ice, where a body, which alternates fibrous parts with others illuminated by geometries of beams, confronts itself with a Borchardt C 93, a German semi-automatic weapon of the late Nineteenth Century. Frame, trigger, trigger cover, magazine catch button, recoil spring housing screw, grip screw, connecting pin, barrel, firing pin screw. The Suicidal Mantra has to be declaimed with an impassive expression like a Vogue fashion model's, because any feeling can be lethal to wild hearts.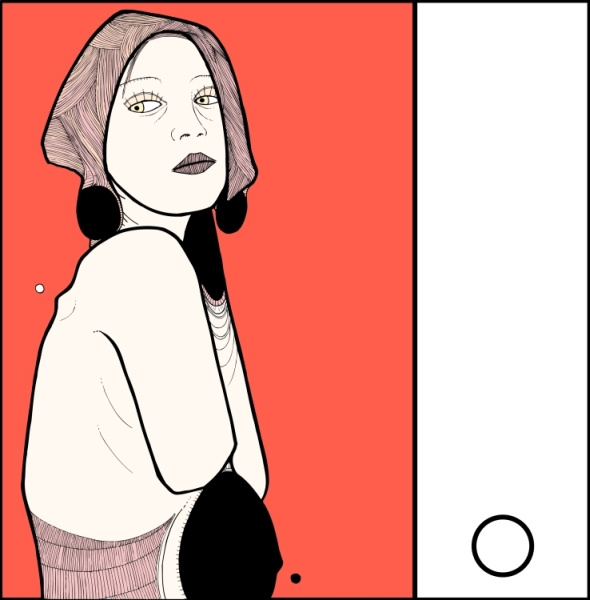 ---
Critical input for the exhibition This Whole World'S Wild At Heart And Weird On Top, curated by Luisa Catucci, Gallery Cell63, Berlin, May the Sixth 2011.
dowload wildatheart press release
---